Day 3 :
Speaker Session I
Materials Science & Engineering | Nanotechnology in Materials Science | Batteries and Energy Materials | Mining, Metallurgy and Materials Science | Surface Science and Engineering | Electrical, Optical and Magnetic Materials | Materials Chemistry and Physics
Location: The Five Spot Room
Chair
Antoine Barnabe
CIRIMAT – Université de Toulouse III Paul Sabatier, France
Session Introduction
CIRIMAT – Université de Toulouse III Paul Sabatier, France
Time : 10:00-10:25

Biography:
A. Barnabé is a professor at the CIRIMAT laboratory (Mixed Oxide Valency research group), Paul Sabatier University, France. He received his PhD degree in chemistry of materials from University de Caen-Basse Normandie (France) in 1999. He held a post-doctoral position in Northwestern University, Evanston (USA), in 2000. His current research interests are mainly focused in functional metal oxide powders, ceramics and thin films prepared by PVD technique. He first worked on TEM characterization of giant magnetoresistance manganites then moves to complex oxides with new optoelectronic properties. For the last decade, he has developed transparent conductive oxides (n- and p-type) and gas-sensing layers for the CO2 detection sputtered oxide thin films. He's in charge on the SEM/TEM/EPMA/SIMS characterization center R. CASTAING in Toulouse. To date, all these works have led to 63 publications, 2 patents, and more than 80 communications (hindex = 22, sum of the times cited > 1400).
Abstract:
Currently there is a lack of a p-type materials with comparable combinations of high conductivity and transparency to established n- TCO. This technological gap imposes many constraints on the conception and performance on optoelectronic devices which require a transparent hole injection, collection or transport layer. For p-TCO, it is first necessary to deposit the resultant material as a thin film on a transparent substrate. This has been already published using a large range of deposition conditions and technics. However, the main p-TCO performance still needs improvements to, in fine, reach that of their n-TCO counterparts. Second, proper control of the substrate temperature is required and may become an important issue for realistic applications since conventional or flexible substrates are required.
The growth of CuCrO2:Mg delafossite thin film on quartz substrate by rf sputtering is first reported in this work. The deposition leads to a nanocrystalline phase. Delafossite characteristic diffraction peaks were obtained as a function of the thermal treatment. The electrical conductivity was optimized until 1.6 S cm-1 with an optical transmittance of 63% in the visible range. The transport properties were analyzed by Seebeck and Hall measurements, integrated spectrophotometry and optical simulation.
The second part of this work is focused on the post laser annealing which was carried out by varying the scan speed, power and number of pass of the laser beam on films deposited on various polymer, conventional glass and quartz substrates. The laser annealing affects the microstructure, sheet resistance, and optical transmittance of the CuCrO2:Mg thin films. From the present work it can then be concluded that the preparation of efficient p-type TCO thin films based on Delafossite structure could be obtained at temperatures compatible with the use of cheap substrates such as flexible polymer or conventional glass slides.
National United University, Taiwan
Time : 10:25-10:50

Biography:
Fan-Bean Wu, Ph.D, graduated from Department of Materials Science and Engineering of National Tsing Hua University, Taiwan, in 2002. He has been recognized as a dedicated researcher in hard protective coating and specialty glass fields. As a faculty in Department of Materials Science and Engineering in National United University, Taiwan, and a society member in both Committees of Taiwan Association of Coatings and Thin Films, TACT, and Taiwan Ceramics Society, TCS, he has served as department chairperson, director of Editing committee, and vice-director of Member committee and received Awards of Outstanding Teaching, Outstanding Service, several research conferences and innovation expos. He welcomes all kinds of research collaboration and is willing to put efforts on developments in any interesting topics concerning coatings/surface technology/glass/material process technologies.
Abstract:
Transition metal nitride, TMN, coatings had been proved to be excellent protective surface layers in recent decades owing to their promising corrosion resistance, high hardness and modulus, good adhesion onto various substrates, and pronounced tribological behavior. Tremendous efforts were made on characteristic enhancement of the nitride coatings with multicomponent and multilayer features for the past decade. In this work single element nitride films, including TaN, MoN, and HfN, were and were manipulated to form amorphous, crystalline, preferred structures by RF magnetron sputtering and dedicated parameter control. Through input power and source gas ratio modulation, TaN with amorphous/crystalline altering layer stacking, i.e. an a-TaN/cTaN multilayer coating, could be produced with tougher behavior. Less tribological failures for the multilayer TaN coatings, like scratch cracking and peeling, during scratch and dry sliding wear were observed as compared to single layer coatings. Likewise, superior mechanical properties and corrosion resistance were obtained for single element HfN multilayer film with HfN nanolayers deposited under various RF input powers. More promising effect on adhesion enhancement was found for the nanocrystalline/preferred-orientation-crystalline MoN multilayer coatings. The continuity of column structure found in single layer nitride coatings could be effectively suppressed by nanolayered stacking of single element nitride layers with different structure features. The modulated multilayer features were also beneficial to the mechanical characteristics. The effects of the modulation on mechanical characteristics of the multilayer nitride coatings, such as hardness, modulus, adhesion strength, and tribological behavior, were demonstrated and discussed.
Break:
Networking & Refreshment Break 10:50-11:10 @ Pre-Function Space
LPIM - Université de Haute-Alsace, France
Time : 11:10-11:35

Biography:
Daniela Rusu (M.Sci., Ph.D., HDR in Materials Science) is a Polymer Scientist at the Université de Haute-Alsace, Laboratoire de Photochimie et d'Ingénierie Macromoléculaires (LPIM), Mulhouse, France. Her research and teaching activities focuses on multiphase polymer systems (polymer blends, nanostructured materials, gels, composites…), in understanding the processing-structure-properties relationships and tailoring these complex polymer materials for targeted applications (biomedical applications, food packaging, transport, coatings…). Her current research focuses on advanced polymeric materials for coating, and biodegradable polymers for medical and industrial applications. She co-authored 10 book chapters and over 100 articles on multiphase polymer systems, in different peer-reviewed journals and proceedings. She is an active referee for peer-reviewed journals and a scientific expert for EU Framework Program Horizon 2020 for Research and Innovation
Abstract:
Statement of Problem: Epoxy coatings topic is experiencing a continuous renewal and still presents a great potential to produce new advanced functional materials exhibiting self-healing, shape memory or other functional properties such as transparent-to-opaque transitions. Epoxy coatings can be widely formulated by tailoring the epoxy resin/hardener partners upon the performance requirements for the end product. However, these materials exhibit naturally low impact resistance because of their high crosslinking density. The usual approach to toughen epoxy thermosets is to add either elastomers or thermoplastic modifiers, but this is also lowering their overall mechanical performances.
Methodology & Theoretical Orientation: New epoxy-silicone coating formulations are proposed based on diglycidyl ether of bisphenol-A epoxy resin (DGEBA) and 5-amino-1,3,3-trimethylcyclohexanemethanamine (IPDA) as hardener. Several block and grafted copolymers with a silicone part were added to the epoxy matrix or to epoxy-silicone blends, at different silicone contents. Their effect on the morphology and dispersion effectiveness was studied by scanning electron microscopy (SEM). The influence of liquid silicone inclusions on epoxy curing kinetics and on final thermomechanical properties of epoxy-modified networks was investigated using differential scanning calorimetry (DSC) and dynamic mechanical thermal analysis (DMTA). Thermal stabilities of the new formulations were analyzed by thermogravimetric analysis (TGA). Findings: The morphological evolution of epoxy-toughened networks was used to understand and explain the differences in curing kinetics and impact properties of the epoxy-modified networks with different contents of liquid silicone.
Conclusion & Significance: A new strategy for preparing epoxy coatings was presented. Varying the chemical structure of silicone copolymers allows tailoring the morphology and morphological evolution of the silicone inclusions during curing and so, the impact resistance of the epoxy-silicone modified coatings.
Ministry of Science and Technology, Baghdad, Iraq
Time : 11:35-12:00

Biography:
Shrok Allami is a scientific researcher in ministry of science and technology/ renewable energy directory/ department of hydrogen and biofuel. She has completed her PhD at 2007 from University Technology, Iraq. She has published more than25 papers in reputed journals, participates at more than 16 national and international conferences as researcher and at their comities, and has been serving as an editorial board member in Iraqi scientific journals.
Abstract:
La0.75Ce0.25Ni5 alloy was purchased from Whole Win (Beijing) Materials Sci and Tech. com., Ltd. The nanocrystalline alloy was obtained by grinding the alloy powder in sonicatore under different periods. Particle size distribution, surface morphology and structure were studied by laser diffraction, SEM and XRD respectively. The surface area measured by BTU method. The hydrogen storage properties were examined by PCT measurement. The enthalpy (ΔH) and entropy (ΔS) of the alloy indicate that the thermodynamic performance of the nanocrystalline alloy is improved by increasing surface area and diffusion ability of hydrogen in the nanocrystalline microstructure. Short diffusion path of hydrogen in the nanocrystalline microstructure, resulting in better overall hydrogen storage properties, improved the hydrogenation-dehydrogenation reactions of the nanocrystalline alloy. The obtained hydrogen storage capacity was 4.23% (mass fraction), and the amount of hydrogen desorption was 3.74%.
Peking University, China
Time : 12:00-12:25

Biography:
Qiang Sun is a professor at Peking University, China. His current research interest is in computational materials design for energy and environment applications. These include hydrogen storage, lithium batteries, solar energy, CO2 capture and conversion.
Abstract:
The environmental pollution caused by massive carbon dioxide emissions has become one of the main obstacles to the national health and economic development. It is now an urgent problem to develop novel CO2 conversion catalysts. According to current research, Cu electrode is reported to be the best CO2 reduction catalyst among the commonly used metal electrodes. However, bulk Cu electrode is also faced with a few problems like high overpotential, poor selectivity on products and low reaction efficiency due to scaling relationships. In order to develop new Cu-based CO2 reduction catalysts, we will focus on geometric optimization of low dimensional nanomaterials and study their catalytic performances. The introduction of Cu atom, Cu2 dimer, Cu nanowires and nano-flakes to one or two dimensional organic or inorganic systems may bring unique catalytic characteristic and break the limits of bulk Cu electrode. These well-distributed Cu nanostructures are easier to controll and may show novel physical and chemical effects including size effect, geometric effect, substrate effect, magnetic effect, curvature effect and spatial confinement effect, which may improve CO2 catalytic reduction.
Qatar University, Qatar
Time : 12:25-12:50

Biography:
Al tahtamouni is an associate professor at Department of Material Science and Technology in Qatar University. His research mainly concentrates on design, material growth and property study of III-nitride-based deep UV optoelectronic devices. He conducted the research on design, growth and testing of deep-UV light-emitting diodes (LEDs) and MOCVD growth of polar and nonpolar Group-III nitrides epilayers and quantum well structures. He also received many awards and honors, such as DFG Fellowship Research grant at Ulm University and Fulbright Research Award at Texas Tech University. Al tahtamouni's research work on deep ultra violet materials and device structures resulted in a series of technical publications in the world leading journals and conferences. Many of his papers have been published in Applied Physics Letters, widely considered one of the top international journals in this research area.
Abstract:
The growth of high quality AlN epitaxial films relies on precise control of the initial growth stages. In this work, we investigated the influence of trimethylaluminum (TMAl) pretreatment of sapphire substrates on the properties, impurity incorporation and growth mode change of AlN films grown by metalorganic chemical vapor deposition (MOCVD). Without the pretreatment, no trace of carbon was found at AlN/sapphire interface and the residual oxygen resulted in N-polarity. With 5s pretreatments, carbon started to be incorporated, forming scattered carbon-rich zones due to the decomposition of TMAl. It was discovered that carbon attracted surrounding oxygen impurity atoms and consequently, suppressed the formation of N-polarity. With 40 s pretreatment, a significant presence of carbon clusters at the AlN/sapphire interface occurred, which attracted considerable co-existed oxygen. While preventing the N-polarity, the carbon clusters served as random masks to further induce a 3D growth mode, creating Al-polar AlN nanocolumns with different facets. The properties of AlN and epitaxial growth mode change are discussed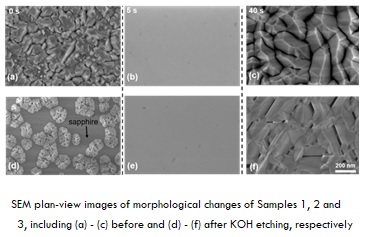 Alexandria University, Egypt
Time : 12:50-13:15

Biography:
Ahmed Abd El-Fattah research work is focused on preparing nanoparticles and nanofibers block copolymers with different architectures and compositions. Polymeric materials (hydrogel scaffold) with a range of different final properties were obtained by selecting suitable synthetic strategies. Moreover, those nano copolymers used as drug delivery systems and scaffolds for tissue engineering applications. They were loaded with various bioactive agents (antimicrobial, anticancer, and photosensitizer) and their release profile were studied.
Abstract:
Bone is a complex, highly organized living organ forming the structural framework of the body. It is a naturally existing composite that is composed of an inorganic mineral phase of hydroxyapatite (60% by weight) and an organic phase of mainly type I collagen. Bone defects are a serious illness that may result after a pathological process has destroyed vital components of the bone. Recently, Injectable hydrogels have been used in bone regenerative applications, because of their high tissue-like water content and moldable features. Such injectable hydrogels are of particular significance because drugs, cells, proteins, and bioactive agents can be essentially incorporated into polymer solutions before administration. In this work antimicrobial injectable hydrogel scaffolds based on a biopolymer matrix composed of collagen, reinforced with the nanohydroxyapatite (nHA), were prepared. The chemical structure, morphology, and swelling ratio as well as mechanical and viscoelastic properties of the prepared hydrogel scaffolds were investigated. For drug-release tests, gentamicin, an antibiotic drug, was entrapped within the scaffold, and the drug-release profile was examined The results revealed that the incorporation of the nHA particles into the collagen hydrogel enhanced the mechanical and biodegradable properties and also cause a reduction in both the hydrogel porosity and swelling ratio. Furthermore, the rheological studies showed that the collagen/nHA hydrogel scaffolds is non-Newtonian viscoelastic material with more elastic dominance and exhibited higher stiffness. These properties make the injectable hydrogel of potential interest as biomimetic scaffold for bone regeneration operations in diverse applications. Consequently, this collagen/nHA hydrogel scaffold will provide an opportunity to translate lab research to the market and to apply the principles of tissue engineering in the clinical settings.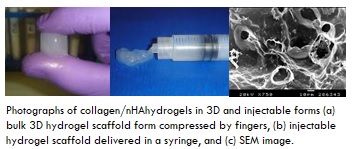 Break:
Panel Discussions and Award Ceremony 13:15-13:30 @ The Five Spot Room
Lunch Break 13:30 onwards @ Renaissance III
Day 3 Concludes....
Location: published only on Conference Website
Session Introduction
De Anza College, USA

Biography:
Xiyue Zhou and Yucen Liu are students at De Anza College, California, USA. They used a modern nano-thin film deposition research system to study new conductive materials, and characterized the optical properties of these new materials, which were the first reported, and could be used other optical applications; Under the guidance of Dr. Ding, they used these new materials to develop new energy-efficient windows prototype products.
Abstract:
Silver-based and TiN based thin film glass coatings with thicknesses of tens of nanometers are widely used in today's energy-efficient building windows. However, there is no Ag-Ti alloy thin film coating on optical coating applications reported. In this study, Ag-Ti alloy from 10nm to 40nm thin film was deposited by a co-sputter technique at a magnetron sputter system with three sputtering target guns in a high vacuum chamber. The chamber base pressure is 4x10-7 Torr, and the films were deposited at 3 mTorr. The Ag to Ti ratio in AgTi alloy was controlled by the two independent pulsed-DC power suppliers, from 50W to 200W during the sputtering deposition. The Ag-Ti alloy single thin film refractive index (n,k) were measured by a Woollam ellipsometer combined with a Shimadzu 3700 UV-Vis-NIR spectrometer (300nm to 2500nm), and the optical properties of the new nanoscale thin film materials Ag-Ti alloys are the first time reported. The alloy Ag-Ti refractive index was strongly dependent on its resistivity, which was calculated from the resistance measured by a four-point probe and the film thickness measured by the ellipsometer. The third target in the chamber is Si target, which is used for the thin film Si3N4 deposition by reactive sputtering Si target under Ar-N2 mixed gas at 3 mTorr. The thin film stack of Si3N4/Ag-Ti/Si3N4 on glass was simulated for the optical performance optimization to guide the experiments, and the transmittance of (40 nm Si3N4 / 20 nm Ag-Ti / 12 nm Si3N4 / glass) on glass could be 40%~50%, and those performances are comparable to many energy efficient window products on the market today, on the other hand, such a tri-layer simple stack showed the potential benefits of lower production costs.
National Kaohsiung First University of Science and Technology, Taiwan

Biography:
Tai-Ping Chang received PhD degree in Civil Engineering and Engineering Mechanics from Columbia University, NYC, USA, in 1985. Since 2002, he has been working as a professor and chairman (2002-2008) of Construction Engineering department at National Kaohsiung First University of Science and Technology, Taiwan. His current research interests include Structural Dynamics, Random Vibration, Finite Element Methods, Computational Mechanics, Nano Mechanics, Fluid-Structure Interaction, Disaster Prevention and Mitigation and Hazard Risk Assessment.
Abstract:
In the present study, the meshless Petrov–Galerkin (MLPG) method is adopted to study the free vibration and axial buckling characteristics of single-walled carbon nanotube (SWCNT) subject to magnetic field. In particular, a nonlocal shell model accounting for the small scale effect is utilized. In the theoretical formulations, a variational form of the Donnell shell equations is constructed over a local sub-domain which leads to derivation of the mass, stiffness and geometrical stiffness matrices. The resonant frequencies and critical axial buckling loads of SWCNT are presented. The influences of boundary conditions, nonlocal parameter and geometrical parameters on the mechanical behavior of SWCNT are investigated and discussed completely. Finally, the numerical results based on the present study are checked by finite element method, they show excellent agreement.

Biography:
Ohyoung Kim has expertise in biomedical polymer, environmental-friendly polymer as well as various functional nanomaterials and polymers for electronic application. He received his B.S. and M.S. degree at Seoul National Univ., and Ph.D. degree from Univ. of Massachusetts at Lowell (polymer science). From 1997, he has been served as a professor at department of polymer science and engineering, Dankook University, Gyeonggi, Korea, with special contributions as a head of industry-university cooperation foundation, office of planning, and secretary's office of President of Dankook University. He is currently a dean of faculty for college of engineering and graduate school of information technology & intellectual property.
Abstract:
The approach using localized surface plasmon resonance (LSPR) from metallic nanoparticles is attractive as one of the promising method to enhance the internal quantum efficiency of an organic light emitting diode (OLED) or power conversion efficiency of an organic solar cell (OSC), where the various shapes and geometrical arrangements of the nanoparticle and the nanostructures affects their performances. LSPR increases electromagnetic density of states which contribute to more efficient light emission of OLEDs. In order to investigate the light extraction from metallic nanoparticle array, we have compared the monodispersed silver nanoparticles (randomly dispersed onto substrates by spin-coating) with the ordered gold metallic arrays (formed by the phase separation of block copolymer; BCP). Gold nanoparticles arrays were given a particular morphology, which is driven by self-assembly of polystyrene-block-poly(2-vinyl pyridine) BCP thin film by solvent-annealing process. Controlling the annealing time and solvent type of the block copolymer results in the various nano-morphologies. In case of OLED, light emission efficiency (internal quantum yield) shows notable improvement (about 43.8%) in terms of current efficiency for line patterns of Au nanoparticles array developed by BCP self assembly. Those plasmonic nanostructures of gold were almost similar scales of BCP patterns, formed at the on the surface of anode (ITO) at both OLED and OSC, showing notable enhancements of the light extraction and power conversion efficiency. The size and the anisotropy of gold nano-patterns were changed from a simple dispersion of dot through an integrated dot-line pattern, finally to a contour line pattern with higher percolation of particle array.
Chang Gung University, Taiwan

Biography:
G.M. Wu has completed his PhD from the University of Delaware, USA and had been a visiting professor at the University of California at Los Angeles, USA. He is in charge of the Electro-Optical Engineering Laboratory of Chang Gung University in Taiwan. He has published more than 50 papers in reputed journals and served as technical consultants for a broad range of industrial companies. This study was supported in part by the Ministry of Science and Technology under research grants MOST105-2221-E182-059-MY3 and NERPD2E0481.
Abstract:
Statement of the Problem: Reliable energy is essential in providing the much needed sustainable economical development for a modern society. Inevitably, due to the limitation in natural energy resources and the growing concern for environmental protection, alternative power generation technologies have become very important. The recent discovery of organic-inorganic perovskites offers promising routes for the development of low-cost, solar-based clean energy solutions for the future. Thin-film solar cells provide promising technology for cost-competitive solar power via reduced material and fabrication costs as compared to the prevailing crystalline silicon photovoltaic system. Such systems make use of high absorption of photons. Methodology & Theoretical Orientation: Organic–inorganic hybrid solar cells that combine a mesoporous scaffold, a perovskite light absorber and an organic hole transporter have emerged at the forefront of solution-processable photovoltaic devices. However, they require high processing temperature of up to 500°C to sinter the mesoporous metal-oxide support. Here, we used different powder and solution spin coatings on the glass substrates to observe the different film-forming characteristics. Findings: We demonstrated two low-temperature processes that could be stable with more than 10% conversion efficiency. In addition, we used dimethylsulfoxide (DMSO) instead of the common N, N-dimethylmethanamide (DMF) to dissolve PbI2 and to fabricate PbI2 films. This strategy overcame the problem of incomplete conversion and uncontrolled particle size of perovskite in the absence of mesoporous scaffolds, which greatly increased the film reproducibility. Conclusion & Significance: After the parameters have been optimized, long time stability characterization could be carried out for the new high efficient solar cell system.